Confirmation
". . . sealed with the gift of the Holy Spirit."
---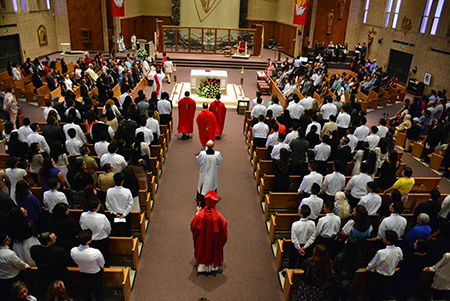 Confirmation is one of the three sacraments of initiation. Through baptism, confirmation, and Eucharist, a person is born again, strengthened, and nourished in order to live fully the Christian life. The Rite of Confirmation normally includes a renewal of baptismal promises, the laying on of hands, anointing with the oil of the chrism, and a blessing.
The sacrament of confirmation:
Roots us more deeply in our relationship with God
Unites us more firmly with Christ and reminds us that every sacrament we receive is an encounter with Jesus himself
Increases in us the gifts of the Holy Spirit: wisdom, understanding, right judgment, knowledge, courage, reverence, wonder and awe
Strengthens our bond to the Church
Gives us strength to spread and defend the faith by word and deed.
Adults seeking to become Catholic prepare for confirmation through the Rite of Christian Initiation of Adults (RCIA) and receive the sacrament at Easter Vigil.  For young people of high school age, our parish offers a two-year faith formation program, which guides our youth through the process of preparing for confirmation and culminates in the spring of each year when the regional bishop confers the sacrament.
For an outline of the Youth Confirmation process, click here or on the link below.
---
INFORMATION
Bill Sparks, Faith Formation Director
Parish Center
818.341.6634, ext. 1012