Bible Study
"Your Word is a lamp for my feet, a light for my path."
— Psalm 119:105
---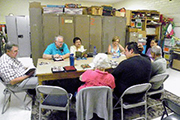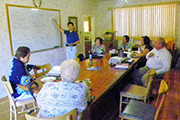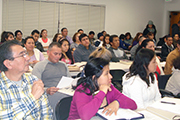 Our adult enrichment program features weekly Bible Study in Spanish and English. All are encouraged to take advantage of these opportunities to expand your knowledge of the word of God. One of the most effective ways to study the Bible is as a group, along with prayer and personal reflection.

No previous Bible study experience is required. The weekly two-hour sessions include prayer, questions, group sharing, and small group discussion. Participants learn what a particular passage says, understand what it means, and reflect on its relevance today. Facilitators are our own parishioners, several of whom are graduates of the Catholic Bible Study Institute of the Archdiocese of Los Angeles, a three-year curriculum at Loyola Marymount University.

English Bible Study

Monday Evenings
7:00 p.m. – 9:00 p.m.
Religious Education Office, School Building

Friday Mornings
10:00 a.m. – Noon
Parish Center Dining Room

The English study group uses the Little Rock Scripture Study materials. During the week participants read assigned chapters in preparation for the weekly session. Bring your Bible and discover the joy of scripture study. Study materials are available at the meeting (modest materials fee). No registration required – just come!

Spanish Bible Study

Thursday Evenings
7:00 p.m. - 9:00 p.m.,
St. Elizabeth Ann Seton Meeting Room, Conference Center Hall

No registration required.
---
INFORMATION

English Group:
Bill Sparks, Faith Formation Director
Parish Center, 818.341.6634, ext. 1012

Spanish Group:
Ismael Ramirez, 818.355.4476