Bible Study
"Your Word is a lamp for my feet, a light for my path."
— Psalm 119:105
---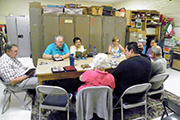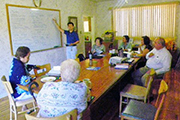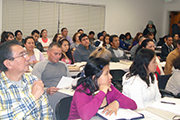 Our adult enrichment program features weekly Bible Study in Spanish and English. All are encouraged to take advantage of these opportunities to expand your knowledge of the word of God. One of the most effective ways to study the Bible is as a group, along with prayer and personal reflection.

No previous Bible study experience is required. The weekly two-hour sessions include prayer, questions, group sharing, and small group discussion. Participants learn what a particular passage says, understand what it means, and reflect on its relevance today. Facilitators are our own parishioners, several of whom are graduates of the Catholic Bible Study Institute of the Archdiocese of Los Angeles, a three-year curriculum at Loyola Marymount University.

Because of current public health restrictions related to the COVID-19 pandemic, all sessions take place via Zoom.

English Bible Study

Thursday Evenings
7:15 p.m. – 8.45 p.m.

Friday Mornings
10:00 a.m. – Noon

To participate in English Bible Study, email Bill Sparks, Faith Formation Director. He will send you the Zoom logon information.

Spanish Bible Study

Thursday evenings
7:00 p.m. – 9:00 p.m.

To participate in Spanish Bible Study, contact Ismael Ramírez, 818.355.4476. He will provide the Zoom logon information.

No registration required.
---
INFORMATION

English Group:
Bill Sparks, Faith Formation Director
Parish Center, 818.341.6634, ext. 1012

Spanish Group:
Ismael Ramirez, 818.355.4476