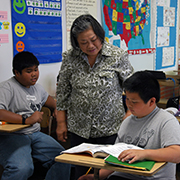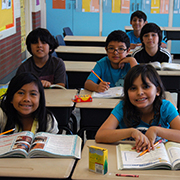 A child's journey of faith begins in the home. The Religious Education program assists parents with the sacred responsibility to educate their children in the Catholic faith. Our religious education team is dedicated to being a partner in your family's faith formation and to sharing the Gospel message of Jesus with all the children and families of our parish.
At the elementary level, children are introduced to the beliefs and traditions of the Catholic faith. Young children (generally, in the second grade) receive the sacraments of First Penance (Reconciliation) and First Holy Communion in the spring.
Middle school students learn about living their Catholic faith, as they enter adolescence. The program incorporates presentations by inspiring speakers, social activities, service opportunities, and film and prayer experiences.
Our parish Vietnamese community conducts a religious education program (in Vietnamese) for children and youth.
We are also pleased to offer sacramental preparation for students enrolled in a special education program in public school.
Catechetical sessions are offered to new and returning children and youth in grades 1-8, as well as to children and youth with special needs.
The health and safety of students, families, and the catechetical team is a priority. The Religious Education program operates in accordance with Archdiocese and local and state government guidelines relative to the COVID-19 pandemic restrictions..
Fees for 2021-2022
New Families, Year 1
$ 70.00 per child
$ 100.00 for two children
$ 125.00 for three children
Returning Families, Year 2
$ 80.00 per child
$ 140.00 for two children
$ 160.00 for three children
Schedule of Sessions, 2021-2022
Elementary Wednesday – Grades 1-5 English
4:00 p.m. – 5:30 p.m.
Elementary Saturday – Grades 1-5 English
9:00 a.m. – 10:30 a.m.
Elementary Saturday – Grades 1-5 Spanish
11:00 a.m. – 12:30 p.m.
Middle School Wednesday – Grades 6-8 English
7:00 p.m. – 8:30 p.m.
Special Education – English
Individual sessions Wednesday afternoon or evening, parent and child
Volunteers Needed
Our program serves over 300 students, and in order to run effectively we need many volunteers. All teachers and volunteers must have completed an annual background check, be fingerprinted, sign a copy of the Code of Behavior and undergo a "one-time-only" Protecting God's Children training program. Please give prayerful thought and consideration to teaching as an individual or part of a team. The Religious Education staff offers support, enrichment, and training. If you have any questions, please do not hesitate to email Karina Villanueva or call (818)341-6634, ext. 1016.
---
INFORMATION
Because of coronavirus precautions, the Parish Center is closed. For assistance, please email Karina Villanueva, Religious Education Coordinator, or call the Religious Education office, 818.341.6634, ext. 1016.