Altar Server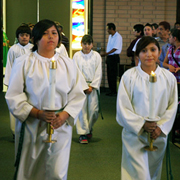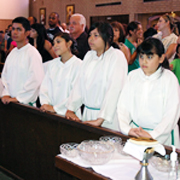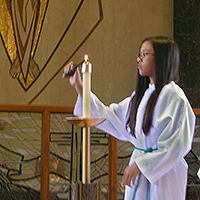 Called to serve the people of God
---
Since the second century, servers have had a place at the table of the Lord. From the very beginning of the celebration of the Eucharist, there were those who prepared for the celebration, assisted at the table, and put things back in order afterward. Servers – men and women, young and old – are part of an ancient tradition in the liturgical experience of the Church.
Our parish altar servers range from fifth graders to senior citizens. In addition to daily and weekend Masses, servers assist the priest at holy day Masses, funerals, marriages, quinceañeras, first Communion, confirmation, and at the Stations of the Cross during Lent.
Requirements and Training
Candidates must have received the sacraments of baptism and Eucharist. Youth altar servers must be enrolled in 5th to 12th grade. Adults of any age are welcome. Certification classes for youth and adults are offered several times a year.
---
INFORMATION
818.341.6634
To express your interest in becoming an altar server, complete the Application for Altar Service. You may print the application here or from the link at top of the page. You may also pick up the form at the Parish Center.