Environment Committee
Creating Beauty for All Seasons
---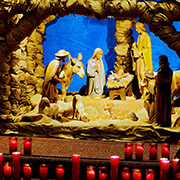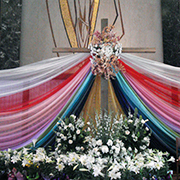 The environment of our worship space gives expression to the deeper realities of our seasons and their feasts and festivals. The environment speaks to us, draws us into these deeper realities. Our parish Environment Committee creates beautiful settings suitable to the occasion, in keeping with the very purpose of the liturgy – to gather all people together in communal prayer and sacramental celebration.
The Environment Committee seeks people who:
• Can climb, build, sew, clean, mend, or like to shop
• Can create and design
• Are visual, who have an eye for color, scale, shape, and texture
• May not be able to attend meetings but are available for the work sessions, set-up, and clean-up
Creating beauty for all seasons is a group activity, which means there are many ideas and opinions. "Our challenge," explains one committee member, "is to bring those ideas together to create something beautiful. We all work together, as a family, toward the same goal. It is very rewarding." Another committee member says, "This is a way to give back and make people happy and welcomed when they are in our church."
---
INFORMATION
Parish Center
818.341.6634