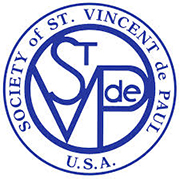 Since 1968 the St. Joseph the Worker Conference of the Society of St. Vincent de Paul (SVDP) has brought hope to individuals and families. Inspired by Gospel values, the Society of St. Vincent de Paul is an international lay organization of women and men established in Paris in 1833. In the tradition of its founder, Blessed Frederic Ozanam, and patron, St. Vincent de Paul, the Society offers direct, tangible assistance (food, clothing, and household necessities), financial help, and emotional and spiritual support, through one-on-one interaction, to individuals in need.
Lunch for the Homeless
Every Saturday from noon to 1:00 p.m., the SVDP Lunch Program is open to those in need of a meal. Parish volunteers serve a take-out lunch through the side gate located on Quartz Avenue. Please wear a mask and keep distance from others.
Food Pantry
The Food Pantry, staffed by volunteers, is open every Saturday morning, 10:00 a.m. – 11:00 a.m.
Food Donations
Hunger is year-round. The Food Pantry depends on the generosity of our parish family. Place deliver your non-perishable food donations to the Food Pantry on Saturday morning.
Thanksgiving Baskets
A parish food drive takes place each November to gather items for Thanksgiving baskets distributed to needy families.
Sharing Tree
On the first Sunday of Advent, the Sharing Tree is decorated with gift tags for children and youth. Parishioners remove a tag and bring a wrapped Christmas gift appropriate for the age of the person indicated on the tag.
Bundle Sunday
The SVDP truck is parked in the parish parking lot every three months on the first Sunday of the month to receive donations of used furniture, working kitchen appliances, and clean used clothing. Bundle Sunday is currently suspended because of COVID-19 restrictions.
Financial Contributions
Financial contributions are essential to the work of SVDP. Parishioners are encouraged to continue St. Joseph the Worker's long tradition of generosity and charity.
Please send your donations (checks payable to St. Vincent de Paul Society) to St. Joseph the Worker Church, 19808 Cantlay St., Winnetka, CA 91306.
Or, donate online by clicking the button below:
TO PARTICIPATE
SVDP meets the first Tuesday of the month at 7:00 p.m. and the third Monday of the month at 7:00 p.m. via Zoom. All are invited to join this ministry and serve those in need.
---
INFORMATION
President
Anthony Cube
•To volunteer at the Food Pantry, contact:
Vicky Defilippi 
818.213.1067
•To volunteer at the Lunch Program, contact:
Mike Rath